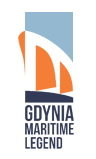 Legend of port and city construction
"I realised that the only and best place to construct the port is the valley between the so- called Kępa Oksywska and Kamienna Góra. Because the seaside resort village of Gdynia is located there, which was popular among Polish holiday-makers, the future port was also called Gdynia" says inż. Tadeusz Wenda, who came up with the idea of constructing the port of Gdynia. The city became the most stunning legend of the 2nd Republic. The society was fascinated with this great challenge of constructing a port and a city on sand. People came here from all over Poland to look for jobs, money and adventure. In fact, the city was constructed by one generation. Gdynia meant the American speed, state-of-the-art solutions, a brave vision and the fulfilment of dreams about overseas expansion.
In August 1923, the first seagoing ship moored to the temporary wooden pier. It was a French "Kentucky" steamer. Already 10 years later Gdynia transhipped more goods than the traditional centre in the region, the Port of Gdańsk.
Before the outbreak of the 2nd World War, Gdynia was the most modern port in the Baltic Sea, capable of serving all types of ships. It featured a 12m deep basin, almost 900 hectares of port areas, 240 km port railway lines, dozens of warehouses, and unique modern transhipping facilities. In 1933, a representative port investment was launched, the Maritime Station. It took over the service of the whole passenger traffic. Emigrants from Poland set off from there to look for a new life. Artists, industrialists, diplomats and immigrants visiting the old country came there onboard elegant transatlantic liners.
The whole country lived and breathed the legend of Gdynia, the northern metropolis of the 2nd Republic. It was a persuasive slogan that documented the vital powers of the nation and, most importantly, a very significant location on the economic map of Poland. More than 80% of Polish export and 65% import went through the port.
It has been a broadly opened Polish window to the world ever since.
Today, even though designed 90 years ago, Gdynia remains a port of major development capacities. The intensely modernised port is an attractive partner for the sailing business. It is a popular site for locating commercial, shipping and manufacturing companies involved in international trading.